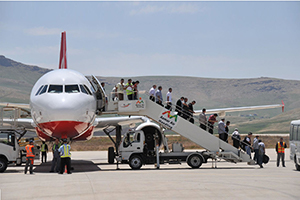 Contact Information
Addresses:
Sulaymaniyah Office, Near Shkar Restaurant
Tel: +964 (0) 53 319 39 29 and +964 (0) 53 319 43 01-02
Mobile: +964 (0) 770 157 19 06
E-mail: admin.azmarair@nokangroup.org
Working Hours: SAT – WED from 8:30 TO 15:30

Erbil Office, Near Franso Hariry Stadium
Tel: +964 (0) 662648601 and +964 (0) 662647150
Mobile: +964 (0) 7501249696
Working Hours: SAT – WED from 8:30 TO 15:30
Azmar air
After opening Iraq towards the world and activating Air Flights on Iraq also the possibilities for traveling outside of Iraq. Our Company for filling that gap and increasing tourists' services, Sulaymaniyah International Airport has been made as a base for its activities, from the beginning faced so many difficulties and insisted to continue its aviation and flights according to international standards and implement flights schedule timetable perfectly and became one of the leading camps in aviation transportation in Iraq and the area.
Azmar airline provides charter flights between Sulaimaniya , Baghdad, Tehran, Amsterdam Stockholm and Dubai
---
Contact Information
Addresses:
Sulaymaniyah, Malik Mahmood st -Near City Center
Tel: +053 3190253- 053 3190111
Mobile: 07705033431- 07501131030
www.homaairline.com

Homa Travel
Was founded in 2004 making easy for the people to travel smoothly from Kurdistan to Iran and other countries, we provide visa to Iran, Turkey, Amman, Azerbaijan, Armenia and Dubai. Homa Travel provides many services such as health insurance, finding and booking very good hospitals in Iran, providing license for driving to Iran with your own car.